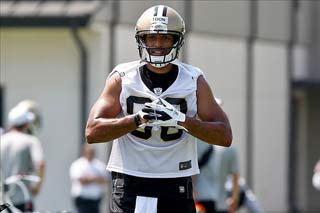 Players and coaches raved about Nick Toon's offseason performance. Some called him "smooth and intelligent," while others compared the Saints' fourth round rookie to Marques Colston. The rookie receiver out of Wisconsin couldn't have asked for a better start to his NFL career and appears set to follow a similar NFL path to his father, Al Toon's.
With Robert Meachem out of the mix in New Orleans, having signed with the Chargers, Toon finds himself in the midst of a position battle for the starting spot opposite Colston. One of the biggest advantages for Toon is that he's NFL ready as a rookie. While Wisconsin employs a run-first offense, it is a pro-style offense that had many scouts call Toon one of the more NFL prepared receivers of the 2012 draft class. That bodes well for his rookie season prospects on one of the most dynamic passing offenses in the league.
We spent some time talking with Toon about his rookie year thus far, the impact of the Wisconsin Badgers offensive scheme on his draft stock, how his father's NFL career shaped him, as well as his ability to contribute to the Saints' offense starting in year one.
The below includes certain excerpts from our interview with Nick Toon. Click here for the full audio interview for all questions and answers covered.
Steve Wyremski (SW): Many other players have the dream of making it in the NFL. You're situation is a little different though. Your dad, Al Toon, played eight seasons with the New York Jets. What's the most valuable advice he's given you through college and the initial stages of your NFL career?
Nick Toon (NT): A lot of people ask me that question and it's a hard question for me to answer. Both my dad and my mom have been more life coaches for me as opposed to giving me specific advice about football. As far as my dad, the one thing he's always tried to reiterate is to go out and have fun. Just go out and play ball because at the end of the day, it's a game. It's a game that we all love playing. You gotta have fun doing it. If there's something that he sees, he'll be sure to let me know, but he's not the type to call me up and coach me up on my game film after every game. If he sees something he can help me with, he definitely lets me know.
SW: You obviously had a solid showing at OTAs based on the buzz that's building in New Orleans. Offensive Coordinator Peter Carmichael compared you to Marques Colston in terms of your range and hands. When you heard that, how'd you feel about it?
NT: Marques is a great player. He's had a lot of success here in New Orleans on a national stage. It's an honor to be compared to him and hopefully at some point, I'll get the opportunity to go out and perform and show the fans and the organization that I can do some of the same things that he can do. Obviously, no two people and no two players are the same. We may do some of the things the same, but we're two different players. It's an honor to be compared to him and spoken in the same breath, but I'd like to go out there and create an identity for myself.
SW: [Colston] even said you're picking up things quickly and you're going to be a contributor to the Saints. He said you're a very intelligent receiver and smooth out on the field. Rookies, in particular, always talk about how fast the NFL game is. How have you found things at this point to be getting that type of praise when many rookie receivers don't? What has put you at this point already?
NT: I think there's a few things I attribute it to. The first thing is the way that we did things at Wisconsin. The Wisconsin program does a great job and preparing guys for the NFL. It was a blessing to get an opportunity to play there. I definitely think that had a big effect on me in making the transition from college to the NFL. My coaching staff during my time there all played a big role in preparing me and molding me in to the player I am today. We ran a pro-style offense there. Those are all things that helped me pick up the offense in the situation I'm in right now a little bit quicker.
SW: It's interesting you say that. Many scouts prior to the draft said that because of your route running and natural ball skills and the offense that you came from, that you were one of the more NFL-ready receivers in the 2012 draft. Can you have an immediate impact this season?
NT: Yeah, definitely. I think so. I believe in my ability and my talent to go out there, help contribute, and help my team win games. I definitely think I can do that. It's not to say that I'm perfect, know everything, or learned everything that I need to do to make that happen, but I definitely think what I've learned thus far is a good start and I'm going to continue to learn. I haven't gotten a chance to play with Drew [Brees] yet. I'm excited to go out there and get the opportunity to play with him. I definitely think I can help my team out this season.
SW: On the flip side of things, as you know, the Wisconsin offense is a run-first offense. Despite that, you put up over 900 yards receiving and ten touchdowns. On a pass-first offense in college, you're numbers could have been up with the top ranked receivers in the 2012 receiver class. In talking to NFL teams, did you get the idea that the run-first offense impacted your draft stock?
NT: Yeah, I think that it did, but NFL teams also realize that and take that in to consideration. Obviously, I wasn't in an offense like Justin Blackmon or Michael Floyd where they're getting the ball thrown to them 15 or 20 times a game. That makes a big difference. Not to discredit what they did this season, but it makes it easier to get those astronomical receiving numbers. To play in the type of offense I played in and have some of the numbers I had throughout my collegiate career definitely was not easy to do. [You're] playing in an offense that runs the ball and that's what they're known for doing and that's what they're going to do. It's a run-first team. I knew what I was going in to coming out of high school. I knew [that] at the end of the day, they were going to prepare me for the next level. Whether it impacted my draft stock or not, who knows, but when it comes down to it, I know that Wisconsin did a great job of preparing me for the NFL. It's not about how you start, it's about how you finish. My goal is to have a long successful NFL career. Going to Wisconsin and preparing for [the NFL] was the best choice for me.
SW: With the Saints, you're headed to the polar opposite situation. You're going to a pass-first offense to play with one of the best quarterbacks to ever play the game. How do you think that'll shape your career? Do you think it's going to be a difficult transition coming from a run-first offense – is that going to change how you approach the game?
NT: Not at all. As a receiver, you want the ball thrown every down. We obviously throw a lot down here in New Orleans. I'm excited to play in an offense that throws the ball as much as they do. It'll be fun. There are a lot of guys that touch the ball and a lot of guys that have had a lot of success down here. I'm excited to get the opportunity to play in an offense like this.
SW: You're known to have solid short area quickness off the line of scrimmage to create separation from the defensive backs. The NFL is a whole different ball game when you talk about press coverage. Any concern about beating the press at the NFL level?
NT: Not at all. Obviously the talent is at a different level in the NFL, but I have full confidence in my ability to go out there and do what it takes to get the job done.
SUMMARY
Nick Toon is entering a perfect situation with the Saints. The incumbent starting receiver is across the country on the west coast playing with another team, while there are inconsistent mediocre options to compete with in New Orleans.
If Toon follows his current trajectory and continues to impress the coaching staff when he puts the pads on in the next few weeks, we could be looking at the next rookie receiver to put together a solid inaugural NFL season.
He certainly has the experience, perspective, pedigree, and confidence to do it.
Click here to listen to the full interview with Toon.
Follow Steve on Twitter