As part of the premium content package, we're unveiling dynasty capsules for every team in the NFL all Spring and Summer. This year, we also have a precursor to every team capsule, with more detail on one of our favorite pieces – the dynasty sleeper. We continue our alphabetical journey through the NFL with the Houston Texans.
Quarterbacks 
Matt Schaub
This is a huge season for Schaub as it's his last on his current contract. While it seems he's open to signing a long term deal to stay in Houston for the rest of his career, the Texans don't seem quite so excited to negotiate at the moment. After all, Schaub is coming off a lisfranc injury that derailed his 2011 season and has never been the most durable of quarterbacks.
When he has been healthy, Schaub has been solid. Since coming over from Atlanta, he's posted two different 4,000 seasons and also thrown 92 touchdowns against just 52 interceptions. Simply put, he's a pretty good quarterback in both reality and fantasy. We currently have him ranked as the 17th best quarterback in our rankings and that seems just about right.
With Schaub, there's a risk and a reward factor. If he stays healthy and plays all sixteen games (which he's done only twice in his five year tenure in Houston), he could easily put up 4,000 passing yards and 25 touchdowns. He could also just as easily get hurt and miss a major chunk of the season.
Looking into the future, Schaub owners just need to hope his foot is healthy and he can put together a good season that's worthy of the Texans extending him. It's hard to see him having more value elsewhere at the moment.
T.J. Yates
Yates was thrown right into the fire last year after Schaub went down and fared pretty well for the most part, though the Texans really kept the training wheels on the young rookie and forced him to be a game manager. He was successful at times and struggled during others. Yates' lack of experience was on full display in the Texans playoff loss against Baltimore where he went 17-for-35 for 184 yards with no touchdowns and three interceptions.
Ouch.
Looking ahead, Yates should still hold on to the backup job and the experience he had last year can't hurt him. For him to not get completely swallowed up by the league after starting so early really does bode well for his future. He showed some glimpses of talent and was pretty efficient overall.
Yates is a long term roster stash in deep leagues.
Case Keenum
Keenum's college stats were incredible. After all, he completed nearly 70 percent of his passes while at Houston and set NCAA records for career passing yards (19,217), touchdown passes (155), completions (1,546), touchdown passes (155) and 300-yard games (39). Keenum was also the first player in NCAA history with three different 5,000 yard seasons.
Wow.
Unfortunately, Keenum is the poster child for the "system quarterback." Much like Kellen Moore of Boise State, those statistics have to be taken with a grain of salt. After all, the Texans picked him up after he went completely undrafted.
Keep an eye on Keenum to see if the hometown favorite can push Yates in the preseason.
John Beck
If he's still on your roster, you should be ashamed of yourself.
Running Backs 
Arian Foster
Foster finished 2009 with a bang, recording 257 yards and three touchdowns in just six games. Still, the Texans looked to be replacing him by drafting Ben Tate in the 2010 draft.
Then the magic happened.
After Tate was hurt in a preseason game, Foster exploded on to the fantasy scene in 2011 and rushed for 1,616 yards, caught 66 passes for another 604 yards and scored a total of 18 touchdowns – good enough to earn him MVP honors in quite a few leagues. The big question last year was if Foster could really do it again, especially with Tate healthy again.
He answered it.
While a hamstring injury limited him a bit during the year, Foster still managed to post 1,224 rushing yards, catch 53 passes for another 617 yards and score 12 more touchdowns in just 13 games. He has elite vision and may be the most patient running back in the entire league.
So, we know that Foster is for real and he'll still only be 26 when the season starts. With the offensive line still strong in Houston (though they will have some changes), Foster looks primed for another monster season and should be considered in the top three in dynasty league drafts.
We can now definitively say, "Yes, he really is that good."
Ben Tate
Tate's injury left the door open for Foster to take a stranglehold on the starter's job back in 2010, but he still made his own impression last season. Tate was one of the most explosive backup running backs in the league last year and rushed for 942 yards on just 175 attempts, good for a healthy 5.4 yards per carry average. His touchdown total of four was disappointing and the Texans struggled in the red zone a bit with Tate, but he still showed enormous talent.
Going into 2012, Tate is one of the few backups you could legitimately look at for your flex spot or even more each week. From a dynasty perspective, he's a solid "hold" candidate because every talented running back eventually gets a legitimate chance to shine.
If you're looking for the next backup running back to emerge later in their career similar to a player like Michael Turner, Tate could be that very type of back. After all, he'll still be just 24 when this next season begins and will be a highly sought after free agent in 2014.
Hold on tight because your patience could be rewarded handsomely.
Justin Forsett
Forsett's career in Seattle had its ups and downs, but he finds himself in a good situation in Houston. He's good in the passing game and could eventually be a nice weapon there. However, Foster is one of the better pass catching backs in the league, so his time may be limited. Forsett's best chance would like come if Foster was to be out for a game and he could take the passing down work from Tate, who isn't near the type of pass catcher that Foster is. Let's just not even think about that scenario, though.
Any running back in the zone blocking scheme of Houston should be on the radar, so monitor the battle for the third running back closely.
Davin Meggett
Meggett's best chance to make the team may be by being the team's return specialist. If he can nail down that job and push Forsett off the roster, he'd be worth watching.
Wide Receivers
Andre Johnson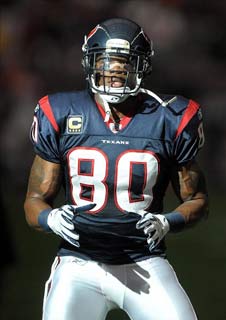 AJ is as skilled a receiver as you could ever find. In his nine year career in Houston, he's posted 706 catches, 9,656 yards and 52 touchdowns. The only trouble you have with Johnson is his durability. He's only played in all 16 games in just five of those nine seasons and has played in only 20 games the past two years combined.
Johnson owners are looking for a nice bounce back campaign and he seems primed for it. While nobody would surprised to see him miss a handful of games, it also wouldn't be surprising to see him catch 100 passes for 1,500 yards and finally post that elusive double digit touchdown season, either.
While many owners are bailing on AJ, it's likely a little too soon. After all, his value is already deflated due to his injury last season. While he just turned 31, he should have a handful of very good seasons left. If you're looking to deal him and don't see yourself as a contending team in the next few years, it's likely best to wait to move him until the season begins and he posts a few nice outings to bump his value back up.
Kevin Walter
Walter's been a pretty dependable player for the Texans over the past six years, recording an average of 48 catches, 595 yards and just over three touchdowns per season. During that span, he's worked himself into being a depth player in dynasty leagues, getting an occasional spot start when injuries or bye weeks start to pile up. With so many youngsters pushing Walter this season, it's getting harder and harder to see any of those averages increasing this season.
Lestar Jean
We focused on Jean in our Sleeper Spotlight article for the Texans.
DeVier Posey
The young rookie from Ohio State was suspended five games last season for the Buckeyes, thus limiting the amount of time we were able to see him progress. The Texans were sold enough to take him with the #68 pick in the NFL Draft, though.
Posey has decent speed and hands, but doesn't really "wow" you with anything he does. That being said, he's already struggling in OTAs and his conditioning has been a problem. The Texans don't have a lot behind Johnson, so Posey has a legitimate chance for playing time, but cap your expectations for year one. From all reports so far, he looks like he has come catching up to do.
Keshawn Martin
Martin is a player to keep your eye on during camp. At worst, he'll take over most of the return duties for Houston, but it's been said he's been explosive enough to possible see some slot duty as well. If that happens, he'll most certainly be on the radar in PPR leagues.
Tight Ends
Owen Daniels
Daniels better be healthy this year since the Texans let Joel Dreessen pack his bags and head for Denver. As the primary catching tight end for Houston, Daniels has carved himself out a nice little six year career that's featured 299 catches, 3,649 yards and 20 touchdowns. While he's nowhere near the elite tight ends, he can still be nice producer for your fantasy squad as a good TE2.
Garrett Graham
He'll likely take over the role left by Dreessen's departure and is a developmental prospect. Daniels has never been completely immune to injuries, so he's a player to keep tabs on as well.
We'll continue our team-by-team capsules with the Indianapolis Colts up next.

Latest posts by Ken Kelly
(see all)