This is a busy time of year for DLF.  In fact, it's THE busiest time of year.  We know that most dynasty league players believe the NFL draft is the kickoff to the new season.  We want you to be prepared for your upcoming rookie drafts and are making sure we have the content to help guide you through the process.  What follows is our consensus top 20 rookie list taken from our updated rankings page, along with a short profile on each player.
For complete pick-by-pick analysis from the weekend, or for the newly released downloadable rookie draft cheat sheet with positional and overall rankings, visit our premium content section.
1.  Andrew Luck, QB IND
No real secret about this selection.  In a stunning turn of events in 2011, the Colts went from a perennial playoff team to the worst team in the league when legendary Peyton Manning sat out the season due to a neck injury. What followed was a display of just how important Manning was to the Colts.  As fortune smiled upon them in 1998, so it has again in 2012 as perhaps the greatest quarterback prospect since 1983, Andrew Luck, fell into their lap.
The Colts paired Luck with a selection of his collegiate tight end, Coby Fleener, with their first pick in the second round. This selection should generate at least some degree of immediate chemistry in the passing game.  The Colts also retained Reggie Wayne on the outside while adding speedsters T.Y. Hilton and LaVon Brazill.  The running game didn't get an upgrade and the Colts are obviously content at this point to allow the duo of Donald Brown and Delone Carter shoulder the load.
Luck is not likely to lead the rookies in fantasy production in his first couple of years, but he is as close as you can get to a sure thing coming out of college for the next 12-15 years at the position.  His talent, maturity and skill set is too great to pass on at 1.01 unless you have a top young quarterback on your roster already.
2.  Trent Richardson, RB CLE
The Browns moved up and got the player they wanted.  In most any other year, Richardson would be an easy selection as the 1.01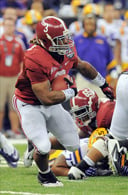 in fantasy drafts.  Only the rare inclusion of someone as good as Andrew Luck in 2012 can push him down a notch.  Running backs have been de-emphasized in greater numbers of late and Richardson's value is actually greater due to his ability to stay on the field.
He's as pro-ready as you see coming out of college and he'll be a three down back for the Browns.  He's strong, nimble and has enough lateral agility and speed to make secondaries pay the price if he's not checked at the line.  He's adept enough in the passing game and is a willing blocker.  The Browns also have an adequate offensive line that could propel Richardson's numbers beyond what we often see in first-year backs.
Richardson has been favorably compared to Adrian Peterson and dubbed elite by nearly the entire NFL community.  If you're needy at both the quarterback and running back positions, you've got quite the decision to make but all signs point to Richardson just being too sexy to pass up on.
Now can he stay healthy?
3.  Robert Griffin III, QB WAS
It's not often that you have a draft that has a once in a decade player (Luck) at a position, and even more rare when you have two.  Many believe that Robert Griffin III (RGIII) is nearly as good as Luck and he's certainly more dynamic.  He's got a monster arm, elite mobility and arguably throws on the move as well as he does standing in the pocket.  Mix in elite leadership, charisma and football intelligence and you have the second elite rookie quarterback prospect in 2012.
Mobile quarterbacks have a much higher injury quotient, so the questions will remain about RGIII's ability to stay healthy over the long term.  You won't find many experts who believe RGIII won't have a very noteworthy career.  In fantasy, the combination of standard quarterback scoring with the addition of rushing yardage and touchdowns makes RGIII extremely tempting, even perhaps over Luck.  In the end, we believe Luck is the clear first choice within the position, but we won't fault fantasy coaches for rolling the dice on RGIII before him.
The Redskins didn't do much to add talent around Luck via the draft, but added receivers in free agency to complement existing younger receivers such as Leonard Hankerson and Fred Davis.  Given the fact the Redskins also have an emerging run game behind Roy Helu Jr., they are suddenly a team to watch in the NFC.
4.  Doug Martin, RB TB
Heading into the draft, the top four selections looked rock solid as Andrew Luck, Robert Griffin III, Trent Richardson and Justin Blackmon.
Enter Doug Martin, selected by Tampa Bay late in the first round.
Fantasy coaches love their running backs and Martin's stock was steadily rising leading up to the draft.  A rare blend of size and downhill running ability, Martin is now in immediate line for significant carries as a rookie and could well challenge Cleveland's Trent Richardson for best rookie running back.  Given that many don't care for Justin Blackmon's ultimate landing spot (Jacksonville), you can expect Martin to take over as the fourth (or better) rookie selected.  Feel free to downgrade LeGarrette Blount significantly.
Tampa Bay struggled mightily on defense in 2011 and Josh Freeman regressed.  Receivers Mike Williams and Arrelious Benn didn't come close to 1,000 yards receiving and the running game had no punch.  The Bucs added Vincent Jackson in free agency which should now open up some running lanes.  Martin isn't the type of back who will take over a game, but he should be very productive between the tackles and restore offensive balance to Tampa.  Fantasy coaches in need of running back help should be excited to have him at 1.04.
5.  Justin Blackmon, WR JAX
Blackmon's stock was all over the map leading up to the draft.  Many an NFL front office had Blackmon as the clear top prospect in the draft, while others had him listed as a second round talent due to a perceived lack of size and speed.  Any way you slice it, Blackmon is a
gritty, hard-nosed player who will do what's needed to get the ball and punish secondaries after he catches it.  He doesn't have blazing speed or the ability to overly stretch the field, but he knows how to use his body, be physical off the line and is extremely dangerous in both shallow and deep slants.
The Jaguars are well known for churning out offensive duds for receivers and haven't had a consistent threat since the departure of Jimmy Smith.  High draft choices in recent years haven't panned out and fantasy coaches are anything but excited about Blackmon's landing spot.  Rookie Blaine Gabbert should take positive steps this year, but there are no guarantees that this will result in fantasy relevance for Blackmon.  He's clearly the first receiver off the board in rookie drafts, but he could fall to 1.06 depending on circumstances.
6.  Michael Floyd, WR ARI
Floyd surpassed Blackmon on a few boards leading up to the draft, but ultimately fell to the Cardinals with the 13th selection.  He has deceptive speed and is a natural hands catcher.  He doesn't play as fast on tape as he ran at the combine and he sometimes gets lazy at the top of his routes, but there's no questioning his prototypical size and ability.
In Arizona, he'll be paired with Larry Fitzgerald and his fantasy outlook is a little unclear.  There is arguably no better mentor than Fitzgerald and he's sure to pick up the finer points of the game at a faster pace.  The Cardinals will also be lining up a dangerous trio of receivers in Fitzgerald, Floyd and Early Doucet or Andre Roberts.  It's also been said that Doucet may be on the trade block after emerging some in 2011.  With a running game finally taking hold, returning starter Kevin Kolb will have few excuses for poor production.
As for Floyd, his drafted value takes a small dip until his role is established, but he's likely to still be the second receiver off the board after Blackmon.
7.  David Wilson, RB NYG
The draft starts getting much thinner here with Wilson heading to the Big Apple.  Wilson has a speed and balance dynamic that is noteworthy, but it's difficult to project his game to the NFL with any level of confidence.  In New York, he'll be paired with accomplished runner Ahmad Bradshaw and will be able to ease into his role. He'll likely be moved around to take advantage of his skill set, similar to what Miami does with Reggie Bush.
The Super Bowl champions already have a noteworthy offense, led by two-time Super Bowl champion Eli Manning.  With receivers Hakeem Nicks, Victor Cruz and rookie Rueben Randle to handle the receiving load, defenses won't be able to stack the box.  There will be plenty of opportunities for Wilson to see the field and Bradshaw is far from consistently healthy.  Wilson's value takes a hit here, but he has a large amount of upside as well.
8.  Kendall Wright, WR TEN
A bit of a surprise that Tennessee ends up with Wright in the first round, but that's what the draft is all about.  With Kenny Britt returning, the Titans should now have a potent passing offense to take the pressure off the offensive line and Chris Johnson.
Wright is a dynamic receiver with a competitive streak that runs very deep.  He's undisciplined at times and never ran as well as expected at the NFL Combine or pro day, but the tape tells a different story.  He's consistently able to stretch defenses, take the top off and come down with the big play at the right time.
In fantasy circles, you'll either like Wright or you won't, as exemplified by our individual rankings.  I'm the lone contributor who believes Wright's value falls into the teens.  If the Titans are able to get consistent play from their quarterbacks, and prove that there are enough balls to be distributed, Wright has the ability to put up numbers similar to Jordy Nelson in 2011.  If that is how he starts, he'll be a gem late in the first round of your rookie draft
9.  Stephen Hill, WR NYJ
Rex Ryan has already established the expectation that Hill will be an opening day starter for the Jets.  A selection of Hill in fantasy is a selection for the belief that a receiver's eventual production is more about size and speed than it is collegiate production.  Hill blew the doors off everyone else at the NFL Combine and, no doubt, created a mad rush for game film as scouts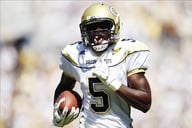 and team brass tried to figure out just what he is capable of at the next level.   There's just little way to tell without getting him on the field.
If the eventual production of fellow Georgia Tech receiver Demaryius Thomas is any indication, Hill will be just fine.  And let's not forget that Tech's quirky offense also produced super-stud Calvin Johnson – the lineage is a good one.  Unfortunately, the Jets offense isn't.  I have serious concerns about the leadership of Mark Sanchez and his  ability to generate a consistent passing attack with Shonn Greene at running back and Santonio Holmes across from Hill.
Regardless, Hill has too much talent not to carry a level of excitement and he'll likely be drafted consistently in the bottom third of the first round of fantasy drafts.
10.  Ryan Tannehill, QB MIA
This selection was anything but a surprise.
There's little chance that Tannehill isn't starting by week ten as the Matt Moore experiment comes to an end.  To his credit, Moore didn't fail entirely and actually put up respectable numbers.  However, the winds of change are blowing in Miami and he'll need a new home.
Tannehill represents the typical rookie quarterback who needs time to develop.  His arm is adequate, perhaps even more so.  His footwork is fair, his pocket presence is average as well, but he seems to have above average IQ and the ability to lead.  If not for being overshadowed by Luck and RGIII, there would have been more excitement surrounding Tannehill and his fantasy drafted status would have been higher in most other years.
He's not flashy, but for teams needing young quarterback depth, Tannehill represents a good bet in the late first round.
11.  Alshon Jeffery, WR CHI
Talk about enigmatic!
With the 45th pick overall, the Bears brought to an end the discussion about just where Jeffery would be selected.  Some considered him a first round talent with the work ethic of a fourth rounder.  Some considered him a slower Calvin Johnson, while others were seriously concerned with his weight.  Jeffery will remain a complete unknown until he proves something on the field. He's got the body and catch radius to be extremely productive, but big questions about physicality remain.
The Bears have yet to produce fantasy significance from their receivers, but acquired Brandon Marshall from Miami in free agency and now Jeffery via the draft.  Can Jay Cutler and Marshall be as productive as they were in Denver?  Will the existence Johnny Knox, Earl Bennett and Devin Hester delay Jeffery's growth, or will the Bears seek to get Jeffery immersed quickly.
This is a classic "boom or bust" pick.
12.  Mohamed Sanu, WR CIN
There's a lot to like about Sanu and his selection by the Bengals is chief among them.  Having lost Jerome Simpson to the Vikings, the Bengals had great need at receiver.
Sanu isn't flashy, but he'll have every opportunity to take over for the departing Simpson and start from day one along side A.J. Green.  Sanu is the the type of receiver who will work the middle of the field and may remind some of T.J. Houshmandzadeh of a few years ago.  With Green on the outside and Sanu working underneath, he could be very productive in PPR leagues.  Note the Bengals also selected receiver Marvin Jones out of Cal, so the camp battle is on.
Don't look now, but the Bengals have quietly assembled a very young offense with upside.
13.  Brandon Weeden, QB CLE
You have to feel a little bad for Colt McCoy.  Receiving the dreaded vote of confidence on the day of the draft was obviously a smokescreen to keep others at bay and away from the Browns true intentions of selecting Weeden with their 22nd pick.  He's older than half the existing starting quarterbacks in the NFL without even taking his first snap, so you can expect Weeden will be under center from day one.
He has a lot of work to do in order to learn how to play the NFL game from under center, but he has the arm and football IQ to develop quickly.  He's an accurate signal caller and throws with a nice release point and touch.  He tends to get jumpy in a collapsing pocket and shows reluctance to hang in and deliver the ball.  However, as a rookie quarterback, he'll develop quickly if given snaps.
He's not a sexy fantasy pick, but he's a good selection in the teens for those looking for a backup quarterback or those already possessing McCoy.
14.  Coby Fleener, TE IND
Fleener has moved up due to the falling prospects of other rookies.  Reunited with his Stanford quarterback, Andrew Luck, he should have immediate chemistry as a receiving tight end and post solid numbers in his first year.  The Colts also selected Clemson's Dwayne Allen, most likely to provide some degree of in-line blocking as Fleener is notoriously incapable at this point in his development.
Fleener may grace the bottom of the first round in fantasy drafts, or could slip much further in shallower leagues.  In all likelihood, he'll be a coveted pick due to the poor 2012 tight end class.
15.  Isaiah Pead, RB STL
Many may mistakenly (say that three times fast) believe that Pead has been drafted as Steven Jackson's backup.  I find that highly unlikely as Pead doesn't have the size and speed combination to provide the every down ability that Jackson does.  Coach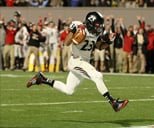 Jeff Fisher does have experience with small, quicker backs such as Chris Johnson, so look for him to get Pead into space to utilize is 4.47 speed.  Pead is no Chris Johnson, but does bring a dynamic that the Rams need.
Jackson may not be back with the Rams in 2013 and Pead's role will be determined through his play in 2012.  Either way, look for him to play a heavy support role to Jackson and to eventually give way to bigger back in 2013.  Until then, Pead may have some value as Jackson's handcuff, especially in PPR formats.  Given Jackson's injury history, it's not out of the question that Pead could be called into duty and surprise us.
16.  Rueben Randle, WR NYG
Randle could have fallen to a better situation, but has to be happy with the receivers around him from which he'll learn about the game at the next level.  A big, capable playmaker, Randle took hits from scouts due to his speed of play.  In watching tape, I see some of the noted concerns, but I also see a receiver with better speed than given credit for and very capable hands.  He won't take the top off defenses, but is reliable in space and will give Eli Manning another big target, especially over the middle.
Randle isn't a "boom or bust" pick, but a receiver who should be productive for many years once his role is established.  The question will be if he can garner a role that leads to fantasy significance or whether he becomes one of those receivers deserving of a roster spot, but can rarely be played (i.e., Michael Jenkins).
17.  A.J. Jenkins, WR SF
A shocker of a pick at number thirty overall in the first round.
San Francisco was quick to defend the selection saying he rated very highly and reminded them of a young Terrell Owens.  At 6'0′ and 190 lbs., it's obvious that Harbaugh and company saw things on tape that suggested Jenkins was a diamond in the rough, or maybe a gem now.
Jenkins is a natural hands snatcher and will high-point tough passes.  He's relatively quick and has deceptive speed – his 4.39 40 was notable.  He has the ability to get in and out of breaks quickly to create separation.  It seems likely that Jenkins would have been available much later in the second round, but perhaps other teams were onto him as well.
Jenkins' situation isn't ideal for early productivity in that he will be sharing the field with Vernon Davis, Randy Moss, Mario Manningham and Michael Crabtree.  For this reason, he may slip a bit in fantasy rookie drafts and could be a bargain late in the second round.
18.  Brian Quick, WR STL
Following the draft, it's already been said by beat reporters that the expectation is that both Brian Quick and fellow rookie Chris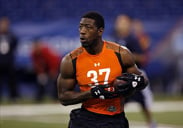 Givens will be starting for the Rams when the season opens.
Quick is as raw as they come out of college, but possesses good size and fair speed (4.55).  He's strong in traffic and isn't afraid of contact or routes across the middle.  For a big receiver, his hands (9.6″) are smaller than we like to see and he sometimes fights them on balls received into his body.
Pencil him in as your day one starter for the Rams, but keep expectations low.  He'll be drafted in the mid-to-late second round in fantasy.
19.  Ronnie Hillman, RB DEN
Hillman is a dynamic speed back who will have an immediate role for the Broncos, desperately in need for speed in the backfield.  We expected Denver to seek out a bigger back to take over for Willis McGahee when he departs, but Hillman likely won't fit this role.  That said, Hillman is a quick-twitch athlete who has great lateral agility, stop-start ability and rare toughness for his size.
On a sour note, Hillman also has small hands and isn't accomplished in the passing game.  He doesn't exhibit a lot of patience behind his line and is too quick to push the play.  Once in the open field, though, Hillman is a nightmare for second level defenders.  Look for Denver to use him in a similar role to Reggie Bush in Miami as they try to get him into space or as a runner in stretch plays parallel to the line of scrimmage.
It's hard to project his eventual production outside of a PPR format.
20.  Lamar Miller, RB MIA
Outside of the surprise that was Chris Polk (undrafted), Miller continued to fall and wasn't selected until the fourth round.  Concerns about his shoulder weighed on his value, but it has been said his football intelligence is seriously in question after failing chalkboard sessions at the NFL Combine.  Miami is said to view him as a "kick returner" and "developmental running back."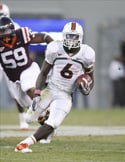 Miller disappeared on third down, short yardage or when tough inside runs were called for and this likely added to his significant drop.  In space, Miller is able to showcase his legitimate 4.40 speed and, given his size, is difficult to bring down from behind.  Unlike other backs in this class with questionable speed, Miller can go the distance if a seam develops and not be caught from behind.  In the passing game, he's capable but not adept.  He shows fluidity when catching the ball on the move and a relatively fluid ability to catch while maintaining forward motion.  HIs toughness is in question with the ball in his hands, so to is it in question as a blocker.  He's not overly physical or willing in pass protection and plays much smaller than his size would suggest.
Miller is as high a risk-reward as you can get in 2012.  His value, due to drafted position, is clearly in the middle of the third round but as other rookies went to questionable situations, it's likely that Miller will be taken late in the second round.  Not many running backs pan out from this position.

Latest posts by Jeff Haverlack
(see all)