Editor's Note: We're thrilled to add Paymon Shokoohi as a writer here at DLF. You'll likely find a few reports from different fantasy sites in regards to the Senior Bowl, but Paymon has a unique perspective from the week because he actually traveled to Mobile to witness the players with his own eyes.
Mobile, AL – The Senior Bowl is a great opportunity for scouts to look at some of the not-so-obvious names available in the NFL draft. In other words, the guys who participate in the game are most likely viewed by organizations as sleepers.
I take that same sleeper concept when considering the prospects for fantasy purposes. Because most of the Senior Bowl participants aren't considered sure bets, it's unlikely they'd be considered in redraft leagues due to limited chances to see playing time in their rookie year.
In dynasty leagues, however, you have the ability to stash a few of these guys with little investment cost and wait for their development and playing time opportunity. The key is to know which guy to invest in with your rookie draft pick.
With that in mind, I made the trek to Mobile to see with my own eyes which of these guys had legit dynasty value. The result? I came away with a better feel for the prospects and more confidence in my assessments of their fantasy futures. These won't be in any order because so much of a player's fantasy value is dependent on the team that selects him. Here are my fantasy relevant Senior Bowl prospects:
Chris Polk, RB Washington
I wasn't as high on Chris Polk as others seemed to be. I felt he was a decent RB who could get the yards his line opened for him. In other words, he'd be just another run-of-the-mill back. That doesn't mean he wouldn't have fantasy value. It just meant that he wasn't anything to get excited about.  After seeing him in person, I will elevate him a little higher than that, but not much. Polk is a physical specimen. He measured in at 5' 11" and 224 lbs. He's chiseled. He runs well between the tackles and his running style matches his physique. What caps his value is his limited ability to contribute in the passing game. The best comparison I can give is he's half Daniel Thomas and half LeGarrette Blount. If you're a fan of those two RBs, that's about what you'll be getting with Polk.
Marvin Jones, WR California
Prior to seeing Marvin Jones in person, I hadn't had the chance to evaluate him beyond a few highlights that I'd seen. In other words, he wasn't really on my fantasy radar. After seeing him live, I came away impressed. Jones cuts well for a 6' 3", 202 lb. guy. What impressed me most is that he made a point to catch every pass with his hands, even passes you traditionally see guys grab with their bodies. In traffic, high, low, or between the numbers, Jones caught everything with those big mitts of his. You know who else does that? Larry Fitzgerald. Now I'm not saying Jones is that good. I'm just giving you a visual of the way he attacks the ball. As a bonus, he also is a very good physical blocker. He has the potential to be a real gem down the road.
Doug Martin, RB Boise State
Doug Martin measured in at 5' 9" and 219 lbs. He's basically a bowling ball. What sets him apart from the other backs is he's a legit three down running back. Best player comparison I can give you is picturing Chargers' RB Mike Tolbert going on a diet and losing 25 lbs. – he'd come out looking like Doug Martin. I'm not making fun (ok, maybe a little) because I like Tolbert, but it's unlikely Tolbert would have the fantasy value he does if he didn't play in the Chargers' system. Because Martin has a closer-to-normal RB physique, he won't be as reliant to a particular system as Tolbert is, but his value could go up or down based on the team that selects him. He's got the best NFL skill-set of all the backs in the Senior Bowl.
Jeff Fuller, WR Texas A&M
I had a clear opinion formed on Jeff Fuller prior to seeing him in person. In some ways, I came away more impressed and in some ways I came away disappointed. Fuller is a big physical WR, standing at 6' 4" and weighing in at 217 lbs. An easy comparison is Miami Dolphins wideout Brandon Marshall. Obviously his physical skills impressed me going in. I loved that he overpowered defensive backs and caught the ball in traffic. He was one of those receivers that you throw the ball to even though he looks covered. What disappointed me is that he too often fought the ball that resulted in several drops. One play the ball would bounce off his hands and the next he'd out battle a DB for a tough catch. Again, a lot like Marshall. I still like him more than most because I see him producing over the long haul even if he'll drive you a little nuts with consistency issues.
Brandon Weeden, QB Oklahoma State
You can't bring up Brandon Weeden without talking about his age – he's set to turn 29 this year. That alone results in his draft stock going down. If he was 24, I'm certain he'd be a first round pick in the NFL Draft, but unless he can get one of those birth certificates from the Dominican Republic, that isn't happening. So the reality is Weeden is most likely a third round pick, which in my opinion, is well worth it to spend on a guy that has first round talent. He has the NFL arm, accuracy, poise, and most importantly the leadership qualities you like to see at the position. Simply put, he has all the intangibles you look for in a franchise quarterback. Given all those checkmarks, the age doesn't bother me. You can get 7-8 years of service from his career.  In dynasty he's a low risk, high reward rookie draft pick.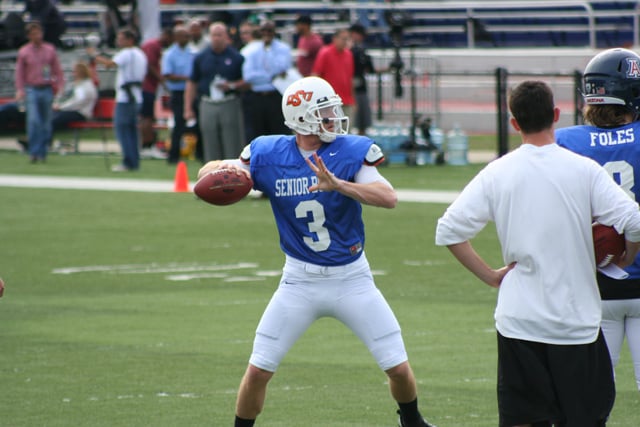 Honorable Mentions:
Joe Adams, WR Arkansas
He didn't do anything to hurt his stock in Senior Bowl practices. He has slot receiver potential, but could also play outside. He runs good, sharp routes inside and outside seam. With his 4.3 range speed, and in the right depth chart situation, he could be a nice fantasy sleeper.
Brad Smelley, TE Alabama
He has nice agility and impressive ball skills. He always has his body positioned correctly to catch the ball at proper ball height. Measuring just under 6' 2" and weighing in at 233 lbs., he's more of H-back than a Tight End.
Dishonorable Mentions:
Kellen Moore, QB Boise State
In person, his lack of arm strength is even more glaring. Absolutely no zip. Add to fact he's 5' 11" and 191 lbs., and you can throw out any could-be Drew Brees arguments.
Dwight Jones WR, North Carolina
He's too much of a body catcher for my liking. He's also an imprecise route runnier, slow out of breaks and struggles to create any separation from defensive backs.
On the Fence:
Chris Rainey RB/WR, Florida
It's hard not to consider a guy who can threaten to break a 4.25 forty yard dash. I'm on the fence because I'm not sure of his role. At the Senior Bowl practices he was working mostly at WR, and that's where I like him most. I've seen comparisons to Sproles but I don't really agree, though I can see the reasoning behind it. Sproles is every bit quick as he is fast, which are both off the charts. Rainey has more straight line speed, and it is world class. To me, he closer resembles Oakland WR Jacoby Ford. Rainey's value, more than any other player at the Senior Bowl, will be dependent on what offensive system he plays in.
Editor's Note: Paymon Shokoohi can be found on twitter @SetMyRoster.  Paymon also blogs at SetMyRoster.com.  Be sure to catch him there as well.