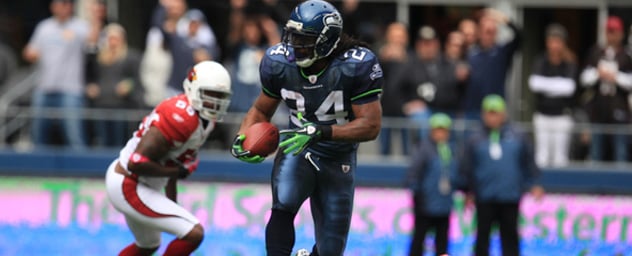 So what does a fantasy coach do with Marshawn Lynch?
Troll the message boards on most legitimate fantasy sites and you'll undoubtedly come across a Marshawn Lynch thread.  Different sites, same discussion.
Certainly, most every football fan has seen the incredible Lynch run that ended the New Orleans Saints' season, where he broke 6-8 tackles (depending on how you define a tackle), executed the stiff-arm heard and felt around the world and ultimately caused a Northwest earthquake.  But that run is now very last week and coaches are asking the question "what about Lynch?"
To me, Lynch will always be known as the 1.02 pick in 2007.  I had made an earlier trade that landed me the 1.02 and was going to wind up with either Adrian Peterson or Marshawn Lynch.  I had watched AP since he entered college but was also enamored with the up and coming Lynch as he plowed through and over his opponents from his spot in the Cal Bears backfield.  I had a lot of excitement for both backs  and it was one of those years where I was thankful to have the 1.02 so that I didn' t have to make the choice.  There really was no choice to make as I could not have passed on Peterson, but I felt more emotionally attached to Lynch.
It seems that much of the discussion surrounding Lynch revolves around his past:  past production, past knuckle-head factor and past-tense potential.  The argument starts at whether or not he can overcome his past to be anything more in the future.  Make no mistake here, and I have watched a lot of him, he has the potential and the skills to be a legitimate RB2 in fantasy.  Until he gets consistent carries and/or becomes a centerpiece in the Seahawk run-game, he will remain a high-end RB3.
There were two locations I did not want to see Lynch drafted into:  1)  Detroit and 2) Buffalo.  Despite being drafted into a situation that, like Detroit, I call "where running backs go to die", Lynch managed 2,150 yards and 15 TDs in two years behind an eroding offensive line, an under-developed QB situation and poor coaching.  Well known is Lynch's "Beast Mode"  style that punishes would-be tacklers while grinding out tough yards.  This same bruising style is what has given me the greatest pause over the past four years, in that backs of this nature have a hard time staying healthy.
Lynch has great hands out of the backfield for an every-down capable back, is an adequate and willing blocker and has legitimate 4.45 long speed.  Add in prototypical size at 24 years of age and you have the mold for a very productive running back.  His 67 yard jaunt in the playoffs vs. New Orleans has resurrected the chatter of what could be?
Seattle's offensive line remains an area of concern and should be addressed early during the 2011 draft.  Add in the fact that Lynch's backfield running mate (at California as well), Justin Forsett , largely relegates him to a two-down back in most situations and there is most certainly ammunition for his detractors.  In four years in Buffalo, Lynch did manage a respectable 4+ ypc. average in a stint that also saw multiple knuckle-head events and suspensions.  So beyond team dynamic and ability remains the looming specters of immaturity and poor decision making.
So where to from here?
I will not deny Lynch's abilities or capabilities with the ball in his hands.  He has the rare combination of size, speed, agility and hands that would allow for an every-down role.  With tremendous lower leg strength, Lynch is truly a beast. A player's maturity level doesn't really concern me until events continue to occur beyond his 25th birthday.  Lynch will be 25 in April and has had no issues in 2010; a lost job and a trade, combined with maturity that comes with age are powerful factors.
Situationally speaking, things could be better.  I prefer my backs to see a fair share of 3rd down work and Forsett continues to receive the Lion's share.  The Hawk's aforementioned front line is missing interior toughness in my opinion but LT Okung should be healthy entering the 2011 season and I expect the right side of the line to be addressed via the 2011 draft or free agency.  But line health and chemistry play large factors in a back's ultimate success and Seattle's line is not without experience.
Lynch had 12 games with his new team and I never use a back's first partial year with his new team as an indicator for the next full year.  There are too many system and chemistry details present for a partial season to dictate longer term production potential.  In those 12 games, Lynch did amass 573 yards on 165 carries, good for a lack-luster 3.5 ypc. average.  To his credit, he did visit end-zone on six occasions.
The question of 2011 value is one that you have likely already answered, even before reading my article here.  You either believe Lynch is a buy-low candidate or believe he is destined for fantasy irrelevance.  With his most recent playoff performance, there now enters the possibility of a sell-high strategy if you are holding Lynch and believe he is a 2011 bust waiting to happen.  Regardless of your belief, there exists an opportunity right now that you should act on.  If you in the buy-low camp, your window of opportunity is following the Chicago game this weekend as Lynch is unlikely to repeat last week's performance.  If you are of the mind-set to sell high, take action soon as the his 67 yard TD is fresh in the mind's of Lynch fans.
For myself, I'm biased.  As mentioned previously, Lynch is not #23 for me but, instead, 2007 1.02.  As such, I have a place for Lynch on my team as he resurrects his career in Seattle and becomes the RB2 that I expect in 2011.  I expect no less than 1,100 yards and 9 TDs in 2011.  With a regained starting gig, playoff experience and, hopefully, a new-found level of maturity,  I believe Lynch's best years are ahead of him.
If another coach is selling – I'm buying.

Latest posts by Jeff Haverlack
(see all)