Owners in NFL Dynasty leagues need to constantly keep tabs on what's happening in the college game. After all, that's where the stars of tomorrow will be coming from.
With that in mind, we're happy to unveil our 2010 College Fantasy Football Quarterback rankings, along with our brand new College Fantasy Football Forum here on dynastyleaguefootball.com
These rankings are created for College Fantasy Football and are not a ranking of NFL Draft prospects. However, you'll see many of these players listed with an astersik. Those marked in that fashion are currently on the Dynasty League Football Hot List as a college skill player who could be drafted in the top 3 rounds in the next NFL Draft.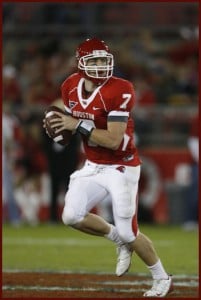 1. Case Keenum, Houston
Who does he think he is, David Klingler?
Keenum posted a ridiculous 5,671 yards and 44 touchdowns last season. Considering he had 5,000 yards and 44 touchdowns the previous year as well, I'd say he could do it again.
He'll likely fall short of reaching the NFL potential of former Cougar and current Eagle Kevin Kolb, but he's great in the college fantasy game.
2. Colin Kaepernick, Nevada
Owners getting caught at looking strictly at passing statistics will miss his real value. While the 20 passing touchdowns are good, the 1,183 rushing yards and 16 rushing touchdowns are phenomenal.
3. Jerrod Johnson, Texas A&M*

Johnson came into his own last year with 3,579 yards and 30 touchdowns, against just 8 interceptions.
After his shooutout with Texas where he threw for 342 yards and four touchdowns, Johnson has reached the college fantasy elite level and has NFL scouts interested.
4. Zach Collaros, Cincinnati
Tony Pike is off to the NFL, so it's time for Collaros to shine.
It's unfortunate he won't have former Coach Brian Kelly to offer guidance, but I expect Collaros to handle the coaching transition well.
He showed some real flashes last season with 10 touchdowns and just two interceptions in limited duty. Expect an even better 2010.
5. Dwight Dasher, Middle Tennessee State
You have to love the College Fantasy Football game because the level of competition simply doesn't matter.
Dasher should improve on his 2,789 passing yards, 23 passing touchdowns, 1,154 rushing yards, and 13 rushing touchdowns he posted last season for the Blue Raiders.
Even if he doesn't, those stats are ridiculous.
6. Kellen Moore, Boise State
He certainly doesn't make too many bad decisions, that's for sure. Moore had just three interceptions in 431 attempts last year.  THREE! When you factor in his 3,536 passing yards and 39 touchdowns from last season, you have the definition of a gunslinger.
His opening game against Virginia Tech could determine if the Broncos could make it into the BCS yet again. If he can post good numbers against that team, look out.
7. Robert Griffin, Baylor
A right knee injury knocked him out for most of last season. He returns as one of the best dual threat quarterbacks in the NCAA.
8. Jake Locker, Washington*

Locker is arguably the premier prospect  for the 2011 NFL Draft.
It seems Head Coach Steve Sarkisian is doing what some thought was the impossible and transformed him from a run first quarterback into an NFL caliber pocket passer.
Locker has a rare blend of speed and athleticism to go with a strong throwing arm. His accuracy and decision making still need improvement, but the stage is set for him to have a huge season for the Huskies.
9. Blaine Gabbert, Missouri
Chase who?
Gabbert was solid in his first year as the starter in Missouri, throwing for 3,593 yards and 24 touchdowns.
NFL scouts have their eyes focused squarely on this Big 12 signal caller this year and expect him to be a much better prospect than former Tiger star Chase Daniel.
10. G.J. Kinne, Tulsa
Last year, Kinne threw for 2,732 yards and 22 touchdowns as a first year starter for the Golden Hurricane. He's not as gifted an athlete as others on this list, but he may have the most room for growth this season.
If you ever have a chance, you really should read this kid's incredible  story as well.
11. Kyle Padron, SMU
12. Russell Wilson, North Carolina State
13. Brandon Weeden, Oklahoma State
14. Ryan Mallett, Arkansas*
15. BJ Daniels, SFL
16. Terrelle Pryor, Ohio State*
17. Diondre Borel, Utah State
18. Andy Dalton, TCU*
19. Dayne Crist, Notre Dame
20. John Brantley, Florida*
21. Ricky Dobbs, Navy
22. Steven Sheffield, Texas Tech
23. Landry Jones, Oklahoma
24. Andrew Luck, Stanford*
25. Garrett Gilbert, Texas
26. Nick Foles, Arizona*
27. Zac Dysert, Miami (OH)
28. Christian Ponder, Florida State*
29. Matt Barkley, USC
30. David Isabelle, UAB

Latest posts by Ken Kelly
(see all)